There are lots of awesome people at The Salt Mines that you will get to know during your time here. When you first join up, though, you should definitely take the time to get to know the following group of regulars. They're in several times a week, working to make The Salt Mines the community we're striving toward being.
Andy Soell
Andy has spent most of his professional life working as a freelance web developer, and most recently has been working in a telecommute capacity for a non-profit based in Washington D.C. A co-founder and the first Full-Time Member, Andy has been around since the beginning, so definitely take the time to track him down and introduce yourself.
Brad Pauquette
Brad is a master juggler. Not literally. We think, anyway. He multitasks as a web developer for Brad Pauquette Design, director at the Columbus Creative Cooperative writer's group, and CEO of the newly-launched Columbus Press Publishing Group. As one of our earliest Full-Time members, Brad has been around since the beginning. If you're looking for someone to fill you in on what's happening at The Salt Mines, he's your man.
January Newbanks
January is an entrepreneur and professional photographer. Most afternoons, she can be found at Dabble & Stitch, the sewing lounge she runs, but she's usually in a couple days a week working on editing photos and designing albums.
Jen Ulm
Jen worked in IT for a local insurance agency until she just couldn't take it anymore and decided to start out on her own as a writer. She has written quite a bit for the local Columbus Free Press weekly while she works on various novels and novellas. She is also the proud owner of two ferrets, though she has yet to bring them with her.
Joe Shaw
A transplant from Boston, Joe works remotely as the team lead for an application development group. If you want to talk Python or iOS / Android app development, he's your guy. He's a big hockey fan, and the area expert for local restaurants; If you're stumped on where to go for lunch, he's the one to talk to.
Lin Rice
Lin is a former journalist who has since set out on his own doing freelance writing. He joined up with The Salt Mines during our Spring 2013 membership drive and has been a regular fixture ever since. When he's not out chasing down interviews or meeting with clients on-site, he's usually set up at one of the white drop-in desks working on his latest story. Stop by to say 'hi,' especially if you're a fellow writer.
Will Koehler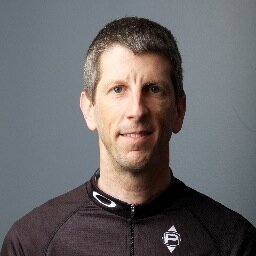 Will rolled in on the day of our first anniversary party, said he wanted in on what we were doing, and has been a regular fixture ever since. During the day he works as a Rails and PHP developer, but he's always eager to talk about whatever other members are working on. Our resident bicycling expert, if you have questions about anything bike related, he's your man.